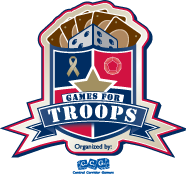 Central Corridor Gamers, a non-profit youth outreach/gaming group, seeks to provide gaming materials to troops overseas through a program entitled Games for Troops.
Games for Troops is an initiative designed to provide military personnel overseas with something to do during their free time. Many of our men and women in uniform suffer from boredom in the interim hours between assignments, and the donated games give them a chance to relax and build friendships.
"They [military personnel serving overseas] are very grateful that fellow gamers are looking to provide them with more of a selection and breaking the monotony of playing the same games repeatedly.  My boyfriend was very excited about people getting involved in the Games for Troops cause.  I support Games for Troops as an Army girlfriend and as a fellow gamer because no one should have to go without their own semi-escape from reality, especially those of us in such stressful surroundings.  It's one of the simple pleasures that remind them of home."
-Whitney Green, Manager of Video Games, Etc! East in Cedar Rapids, Iowa.
Games for Troops has two distinct goals. The first is to collect donations of board games, card/trading card games, miniature, dice, and video games, and other such items to send overseas. Games are not the only contributions we are asking for, however. Most of the cost of this project comes from shipping these items. Cash donations will also be welcomed in order to cover these costs.
The second goal of Games for Troops is to offer new opportunities to the youth of our community. We encourage the cooperation of Cedar Rapids youth to get involved in tasks such as organizing, packaging and shipping, and exploring their own philanthropy. We encourage all who may have some interest in any of the aforementioned tasks to join us in our mission. Among the many benefits available to CCG regulars are gaming events, trading, a feeling of acceptance, camaraderie, mentoring opportunities and new friends.
Donations will be collected in several ways. We look to local shops such as Video Games, Etc! and Alter Ego Comics to host drop-off locations for cash and games. Currently, game donations and cash donations are accepted during regular CCG meetings, Wednesday and Sunday 6-10pm, or during regular business hours at Alter Ego Comics (331 7th Avenue, Marion). Please look to the CCG website and future press releases for more information regarding potential online donating. Donations may also be sent to:
Central Corridor Gamers
c/o Dan Alpers
633 35th St. S.E.
Cedar Rapids, Iowa 52403
Cedar Rapids native, Chad Canfield has entered into a partnership with CCG to publicize our efforts through his locally produced podcast, The Canman Show
(www.thecanmanshow.com). In addition we will be cooperating with online partners such as mtgcast.com, mananation.com, and ccgtradepost.com (Collectible Card
Game websites) to organize somewhat larger-scale
efforts both nationwide and around the world.
While we are still currently looking to local businesses for support, our goals are eventual national recognition and cooperation, working with major sponsors to get as much support as possible to the men and women serving our country overseas.  At present time, we thank actress Cat Taber, voice of Padmé Amidala on The Clone Wars animated series for her involvement as well as Chris (Candyman) Andrews and the 501st Legion's Central Garrison for their immediate response to our Call to Action. Please consider collaborating with our team to fulfill the goals of this venture. We look forward to hearing from you soon. Thank you for your time and consideration.
To find out more about CCG and our efforts or to
join us in our Games for Troops initiative, please visit
www.ccgamers.org or call Dan Alpers at (319) 363-5799.