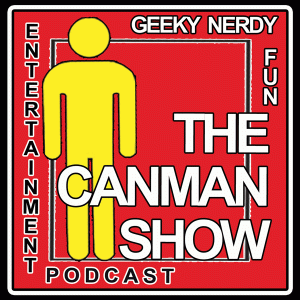 CHECK THIS OUT:
For you, the listeners of the Canman Show, Audible is offering a FREE audiobook download with a free 14-day trial to give you a chance to check out their service. To download your free audiobook today go to http://www.audiblepodcast.com/canman!
Audio Book Recommendation of the Week!
Present:
Dan Alpers
Kevin Coppess
Corey Jordan
Chad "Canman" Canfield
We Discussed:
Canman's Uncle Tim Canfield is bing inducted into the Iowa Rock n Roll Hall of Fame!
Is "Spider-man Turn Off The Dark" Cursed?
The Complete Star Wars SAGA will be on BLU-RAY in September!
Canman's Love of the Dresden Files.
Books that deserve Great Movie Translations.
A New "You Don't Know Jack" is coming!!!!
We rant about STUPID DRIVERS and idiots who ride their breaks on the interstate!
Corey's Texas State Trooper story.
Much, Much More!
Music: