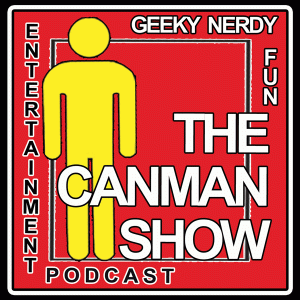 MP3 Download
CHECK THIS OUT:
For you, the listeners of the Canman Show, Audible is offering a FREE audiobook download with a free 14-day trial to give you a chance to check out their service. To download your free audiobook today go to http://www.audiblepodcast.com/canman!
Audio Book Recommendation of the Week!
Present:
Dan Alpers
Corey Jordan
Kevin Coppess
Chad "Canman" Canfield
Recorded live at:
Special Interview!
With Michael Brim from BFADS.NET!!!
We Discussed:
What we did for Halloween.
Beggar's Night in Des Moines.
The Canfield family trip to Blank Park Zoo in Des Moines.
Why to vote, or not.
Charlie Chaplin Time Traveler?
Time travel in general and parallel universes
We sample Marmite.
We discuss what we think might be the "Hot Black Friday" items are.
Kevin reviews Fable III and he's liking Star Wars Force Unleashed 2 so far.
Corey's Perfect Poo?
Ghost hunters live show… Just a HUGE Dodge Commercial?  WTF???
WHY OH WHY CAN'T THEY JUST BROADCAST UK SHOWS???  WHY DO THEY HAVE TO REMAKE THEM!!!!!  WHY MESS WITH PERFECTION?
Steve Moffat is a great TV writing GOD!
Corey's Technicolor Yawn.
Kevin's hunt for a Pink Snow Ball
Much, Much MORE!
Music
"The Old Green Gown" by Wylde Nept!