CHECK THIS OUT!:
For you, the listeners of the Canman Show , Audible is offering a FREE audiobook download with a free 14-day trial to give you a chance to check out their service.  To download your free audiobook today go to http://www.audiblepodcast.com/canman
Present:
Kevin Coppess
Dan Alpers
Corey Jordan
Chad "Canman" Canfield
We Discussed: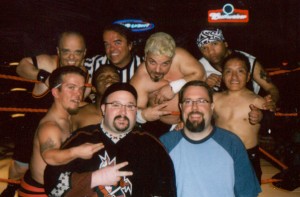 Our chance encounter with "Humpy the Ewok"! (He's the guy on the right above Kevin's shoulder)
Canman's Birthday Party at Dublin City!
The kidnapping of a census taker… and attempts at feeding the guy skittles?
Kick-Ass!
Phone Sex Minute.
Much, Much More!
Music:
This week the music is by "My Own Nothing". We played "Long Day" and "Closure".  Be sure to check them out this Saturday Night at Just Jules on Center Point RD, Behind Coe College.   For more info Click HERE!
Check this out!