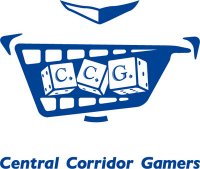 As the season change, Central Corridor Gamers (CCG) and Groundswell are shaking off the winter dust and opening the doors to families and people of all ages for Wednesday evenings of games, snacks, friends, and fun!
You are cordially invited to Groundswell on Saturday, April 2nd from 1-4 pm to explore the past, present, and future of CCG.
Located at 225 K. Ave. NW, Groundswell not only offers CCG a place to call home but also provides a place for youth, artists, and musicians to gather and share their talents with the Time Check neighborhood and the Cedar Rapids community as a whole.
Beginning this April, Wednesday evenings at Groundswell will come alive with the sounds of trading cards clicking and dice rolling.
For those too young to participate in the gaming part of our night, we will offer adult directed craft activities, flower planting in the spring, no-bake snack preparation, puzzles, and free-form crafting. Occasionally we will have a storybook time with related craft activities.
With all of this fun going on, why would you even think of passing up this opportunity? It will be fun for kids and grown-ups alike. Please stop by to see us on April 2nd to gather information, ask questions, and see the building. Light refreshments will be provided and CCG staff will be on hand to teach about their games and give out information.
For more information about CCG or the Open House, feel free to get in touch with Dan Alpers (CCG President) or Amy Anderson (CCG Representative) by calling (319) 363-5799.
• Who:  Central Corridor Gamers and Groundswell
• What:  Open House
• Where:  225 K Ave. NW, Cedar Rapids
• When:  Saturday, April 2nd from 1-4 pm
• Why:  To inform and involve the community.