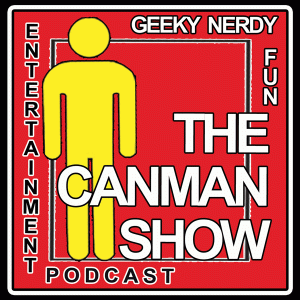 MP3 Download
CHECK THIS OUT:
For you, the listeners of the Canman Show, Audible is offering a FREE audiobook download with a free 14-day trial to give you a chance to check out their service. To download your free audiobook today go to http://www.audiblepodcast.com/canman!
Audio Book Recommendation of the Week!
Present:
Chuck Cavanaugh
Dan Alpers
Corey Jordan
Chad "Canman" Canfield
We Discussed:
Midnight Syndicate has a new movie "The Dead Matter"!
Canman's trip to Chicago.
Chuck tells some bad jokes, 3rd grade jokes….bad.
Canman points out the need for Drama on the show.
Ikea is fun!
Canman is WAY wrong about the mall where he thought some movies were filmed.
Canman does the "Pepsi Challenge" comparing Lou Malnati's (Chicago Style) vs. Tomaso's (Detroit Style) Pizza.
Canman's pool is officially dead.   30 patches later…. Wah, wah.
Zoe gets hit with a stick.
Dan's a S.O.B.
We sample:  Delicious Onion Ring Mints, CornDog Mints, Zombie Blood and Bacon Bean's (Bacon Flavored Jelly Beans).. Hilarious!  Can you say "Clamato Moment"?
Chuck reviews "Clash of the Titans".
Dan's "Evil Spock Beard".
Canman predicts the ending to "Oh Heavenly Dog" with Chevy Chase and Benji.
Girls starting to go through puberty at AGE 7!
"The Popcorn Song" on Dr. Max.
Join us Monday Night 08/16/2010 at Dublin City Pub while we record Episode 99 of The Canman Show!   $3.00 Guinness's!
Pan handlers in Cedar Rapids vs. Pan handlers in Chicago… YIKES!  Enterprising Panhandlers.
Are there some moments that Canman wish never happened on The Canman Show?
Happy Birthday Devlin!
"Tell a Friend Month"  Tell a friend about The CanmanShow!
If you would like to donate a plane ticket to Zerbe e-mail us thecanmanshow@gmail.com
Much, Much More!
Music:
The Survey:
We mentioned this on the show.   If you have a moment please take one of these surveys.   We love you.