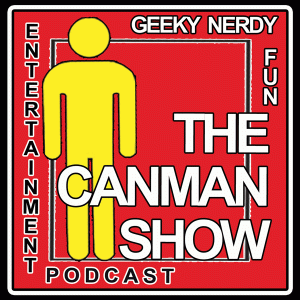 MP3 Download
CHECK THIS OUT:
For you, the listeners of the Canman Show, Audible is offering a FREE audiobook download with a free 14-day trial to give you a chance to check out their service. To download your free audiobook today go to http://www.audiblepodcast.com/canman!
Audio Book Recommendation of the Week!
Present:
Dan Alpers
Corey Jordan
Kevin Coppess
Cory Osborn
Chad "Canman" Canfield
Special appearance by:
Janet "The CanMom" Canfield
We Discussed:
Cory's trip to Pax Prime!
Kevin plays with a Duke Nukem Sound board.
Lots of Video Game talk…
Cory got his hands on Kinect…. LOVES It!
Machinima. Cory hung out with the Machinima guys.
Cory shares travel tips when planning a trip to PAX PRIME.
My Mom is still looking for employment.   If you want her resume, send us an e-mail.  canmanshow@gmail.com.
We discuss Disney World.
Canman's 2nd trip to Florida.
HEY FLORIDA RESIDENTS!  PUT YOUR FREAKING SHOPPING CARTS AWAY!!!! Canman RANTS!
U-Turns.
Canman enjoys BBC America's "The Inbetweeners".
Kevin fills us in on the new "Venture Brothers" episodes.
Kevin reviews Spiderman Web of Shadows.
Rating games on their own merit, vs. sales records.
Batman, Inc.   We discuss the upcoming new Batman title.
Where Bryan Singer went wrong with Superman Returns.
Canman is annoyed by the "Fisher Price Avengers Cartoon".. AKA the "Marvel Squishies"
Ren and Stimpy… Gay couple?  WTF!!!
Much, Much, More!
Music: