VERY IMPORTANT NEWS- If you are planning on attending the Halloween Ball where I'm doing the Haunted House, The Pork Tornadoes and Alisabeth Von Presley are performing….
THE TICKETS ARE ONLY AVAILABLE ONLINE! THERE WILL BE NO TICKETS SOLD AT THE DOOR.
Sorry for shouting. I wanted everyone to see that.
The proceeds are going to benefit Habitat for Humanity.
You can only purchase them HERE–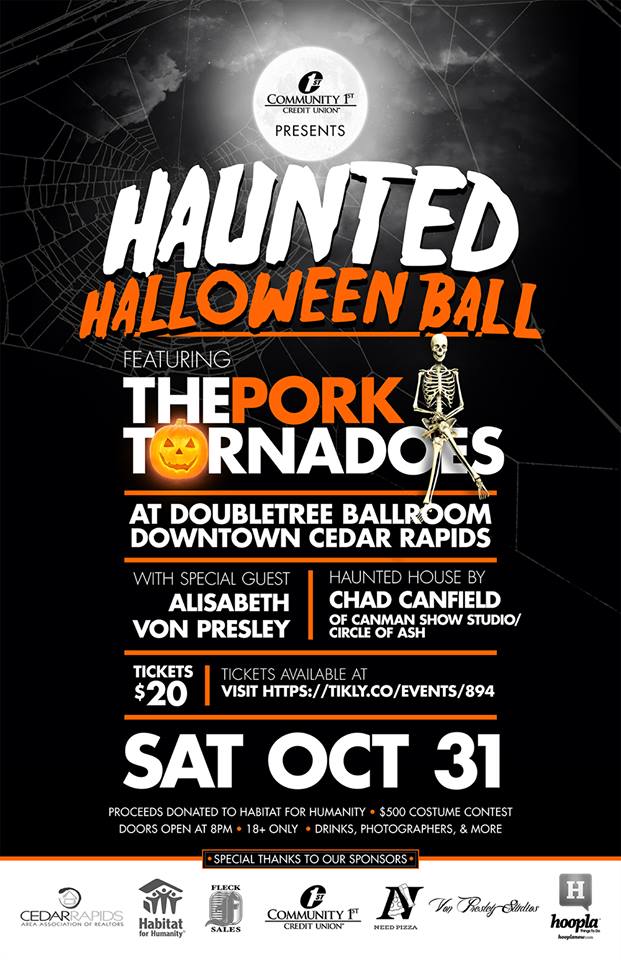 Mike Schulte – One of the organizers for the event posted this on Facebook to describe the event in detail…  Un-edited:
In case you haven't seen it floating around on Facebook yet, here's the low down. I love Halloween. Chances are that you love it too. I have always had a love affair with every part of this season. The cooling weather, the leaves changing, the scary movies, dressing up on Halloween night, etc.
Ever since I can remember, I have always loved watching movies and tv shows having to do with Hall
oween. Shows like Roseanne and movies like Hocus Pocus always seem to have some sort of amazing, adult-oriented Halloween party going on and it always looked like a blast!
For the last 8+ years, I have played in bars on Halloween weekend, hoping to be a part of some epic Halloween evening like I saw in the movies and on tv. While every year has been a great time, it has never lived up to my expectations. The same old bar scene just doesn't do it for me and I know that a lot of you feel the same way. Disorganization, lack-luster costume contests, no decorations, half the people not in costume, etc.
This year, I decided to take things into my own hands. After months of planning and brainstorming, it is finally a reality! The Halloween that you and I have always dreamed of is here and it will be amazing!

I have rented out the Doubletree ballroom in downtown Cedar Rapids on Saturday, October 31st and am planning the biggest, baddest and best Halloween party anywhere in Iowa!

We will have live music by my band, The Pork Tornadoes along with a special Halloween-themed set featuring the amazingly-talented Alisabeth Von Presley and some other surprises. Full production and light show by our buddy Doug Johnson at RGS Productions

The atmosphere in the ballroom with be one of kind with Unique Events Of Iowa doing the decorating.

Chad Canfield of The Canman Show Studio, the Halloween mastermind behind Frightmare Forest, will by putting up an amazing haunted house display that guests will walk thru to get into the event. Circle of Ash Haunted Attraction is unfortunately not open this year and they are graciously letting us use much of their props and personnel to make this happen.

There will be Photo Booth station set up to capture your amazing costumes before the event, not to mention photographers walking around the event taking candid shots throughout the evening. These will all be available for free download.

$500- one of the biggest costume contest grand prizes around offered to the best costume!

Our friends at Need Pizzeria have teamed up with us to offer discounts before AND after the event. 15% off your tab if you dine in before the party. Then they will be hosting the official after-hours party. $1 off slices and drinks for everyone that attended the party.

The Doubletree by Hilton Cedar Rapids Convention Complex is offering nearly 25% off of hotel rooms that night for our party. $89 rooms is a steal!

Tickets are $20 and need to be purchased online at https://tikly.co/events/894 and are NOT sold at the door. Proceeds will be going to Cedar Valley Habitat for Humanity.
I am taking a big gamble by putting on this event because of the costs associated. If we don't get a particular amount of people to attend, I will definitely be owing some money! I was willing to take this risk though because I have faith that this will be an amazing success. Cedar Rapids is yearning for new, fun things to do. This will be the best Halloween you have ever had and we plan on making it an annual event. Please consider coming and at worst, SHARE/SHARE/SHARE this event to all your friends. It would mean the world to me. Looking forward to seeing you on Halloween night!

Special thanks to Kelli Sutterman and Hoopla for being my partner in planning all of this.Molly Schulte for putting up with my crazy ideas. Trom Schulte and Community 1st Credit Union for being our main presenting sponsor. And of course Cedar Rapids Area Association of REALTORS®, Mindye Pickerell and Fleck Sales, Von Presley Studios as our other sponsors. Mike Staebell, the genius behind all of our marketing materials and all around swell guy! https://www.facebook.com/events/950762351654231/