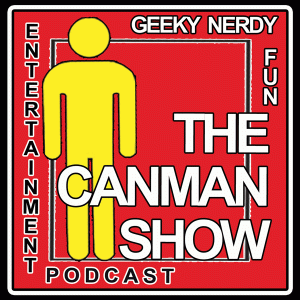 MP3 Download
This weeks Episode brought to you by!
CHECK THIS OUT:
For you, the listeners of the Canman Show, Audible is offering a FREE audiobook download with a free 14-day trial to give you a chance to check out their service. To download your free audiobook today go to http://www.audiblepodcast.com/canman!
Audio Book Recommendation of the Week!
Present:
Dan Alpers
Kevin Coppess
Cory Osborn
Chad "Canman" Canfield.
With Appearances by:
Mike Mulherin
Chad Vick
Eric Penne
Recorded LIVE at Dublin City Pub!
We Discussed:
Unicorn Meat
Pear Cider
Dublin City Pub
Amazon.com is 15 years old.
We pick on Kevin.
Reminder…NO show next week.
Canman's Cruise.
No porn on Netflix.
Scooby-Doo Mystery Inc. Velma is dating Shaggy! No kidding!
How gay do you have to be to wear an Ascot?
Cory tells us what the Gay men wear for underwear.
FCC ruling in relation to Accidental Nudity.
Kevin reviews Inception.
Thor and Green Lantern photos.
We are NEVER letting Dan drink on the show again.
Star Craft.
The new X-Box 360, Mike reviews it.
Cory begs for Microsoft Swag.
Much, Much, More….
Music:
"So Hard" by Smoochknob!