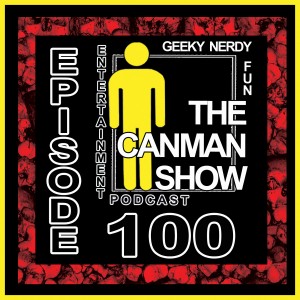 MP3 Download
CHECK THIS OUT:
For you, the listeners of the Canman Show, Audible is offering a FREE audiobook download with a free 14-day trial to give you a chance to check out their service. To download your free audiobook today go to http://www.audiblepodcast.com/canman!
Audio Book Recommendation of the Week!
Present:
Tim Arnold
Dan Alpers
Kevin Coppess
John West
Jenny Rammelsberg
Brian Bodensteiner
Chuck Cavanaugh
Corey Jordan
Cory Osborn
Dennis Green
Jamie "The New Hope" Kelly
Ryan Schoenhard
Chad "Canman" Canfield
We Discussed:
100 previous episodes of The Canman Show.
Our favorite moments on the show.
Where Kevin has  been.
What we missed when we didn't go to Wizard World Chicago.
Our "Man Date" to see Scott Pilgrim vs. The World.
The new "Facebook" movie… Looks interesting.
Our 100th Episode Celebration this Saturday 6-9 pm at Dublin City Pub!
KCCK's Jazz under the stars and their upcoming fund raiser.
RISE Above Leathers by Preston.
Cory is going to PAX Prime next week.
Being Prude in Cedar Rapids.
Kevin tries the "Bacon Flavored Jelly Beans"… Ohh.. it's awesome!
Church of the Sub Genius is a fun cult to join.
Which Cory/Corey is the gay one again?
Remembering the "Chubby Chaser" segments.
Swamp People Show… Really!?
Much, Much More!
Music: