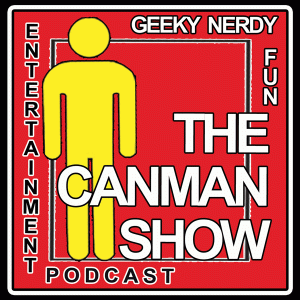 MP3 Download
CHECK THIS OUT:
For you, the listeners of the Canman Show, Audible is offering a FREE audiobook download with a free 14-day trial to give you a chance to check out their service.  To download your free audiobook today go to http://www.audiblepodcast.com/canman!
Audio Book Recommendation of the Week!
A Brief History of Time by Stephen Hawking.
Present:
Dan Alpers
Kevin Coppess
Jamie Kelly
Tracie VanWeelden
Chad "Canman" Canfield
We Discussed:
Kids that eat paste.
Canman's wife rocks!
Circle of Ash!
Dan's good looks?
Kevin's Birthday!
Chicago Wizard Con! Shatner and Stewart!
HD Net  Art Mann and Nudity.
Jamie's Inflatable Love Pig.
Dan brings up "The Flesh Light".
Stephen Hawking ROCKS!
What we're watching this summer on T.V.
Classic Wrestling Stars.
Ghost Hunters Academy?
Red Box Etiquette.
Best Buy's new magazine "Gamer".
Much, Much More!
Music:
"Soliloquy" by Maximilian Eubank!   Check out his stuff HERE!