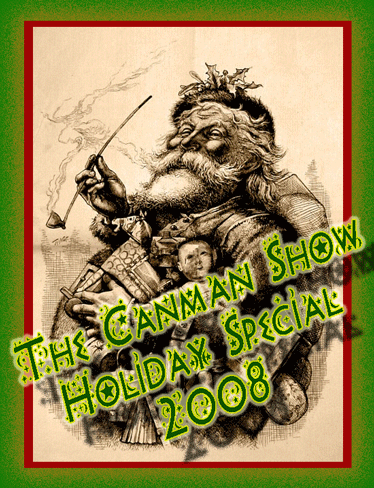 The Canman Show Holiday Special 2008!
Kevin & The Canman are joined by members of their families.  We ask them what they want for Christmas and were pretty shocked at the results!!!   Canman's daughter Zoe read "The Night Before Christmas" by Clement Clarke Moore or Henry Livingston.  
 We share our plans for this Christmas and some of our favorite Holiday traditions.
Kevin reviews the book "Scared of Santa: Scenes of Terror in Toyland" by Denise Joyce and Nancy Watkins. 
 
On the show we also featured music from Podsafe Music Network!
"Fanboy Christmas 2 The Wrath of Claus" By The Great Luke Ski and the FuMP. "All I Got – The Christmas Song" by Nice Peter, and "Chiron Beta Prime" by Jonathan Coulton.
Wishing you a Happy and Safe Holiday Season from The Canman Show!!!