[caption id="attachment_2162" align="alignright" width="228" caption="Our favorite Zombie Alisabeth!"]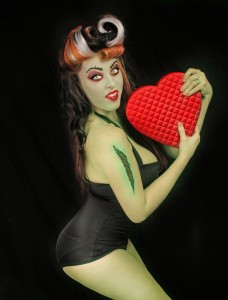 [/caption]
Cedar Rapids, IA – January 27th, 2011 – On the evenings of Friday
February 11th, and Saturday February 12th, the twisting and turning
maze of Circle of Ash Haunted Attraction will be filled with zombies
of all sorts.  Those two nights Circle of Ash will present "Be My
Zombie" in celebration of the Valentine's Day Weekend.
"As much as we love all the mushy, romantic stuff that takes place for
Valentine's, we really felt there was a need for something different,"
explained Mark Fuller, the Volunteer Marketing Lead for Circle of Ash.
 "Frankly, the chocolate melts and the teddy bears just looked better
with fake blood on them anyway, so why not celebrate this 'Hallmark
Holiday' in the best way we know how? Scaring people!", Mark
continued.
"Be My Zombie" is the sophomore effort to the off-season haunted
attraction show which Circle of Ash produced in association with the
Cedar Rapids Freedom Festival in the summer of 2010 entitled "Red,
White and Boo!".  However, "Be My Zombie" will be different from
either the summer production or the Halloween production of Circle of
Ash.  "All of our shows are different." said Ian Austin, Technical
Director for the Circle of Ash.  "We are always changing, always
improving our show.  "After each run, we sit down with the cast and
crew and ask, 'How can we make this better?'.  We leave with hundreds
of ideas from those conversations, put together a plan, and start
making the changes.  We work on Circle of Ash nearly every single day
of the year. "
Something else is different, too.  "This is the first time that we
have been solely set on one type of 'Monster'," said Austin.  "Zombies
have been around our haunt off and on over the years, but we never
have put them in the spotlight.  There will be different types of
zombies, but every character you encounter will be from the undead."
Circle of Ash is a theatrical-style haunted attraction, located at 412
7th Avenue SE in Cedar Rapids, west of the medical district.  Guests
guide themselves through the haunt, where they will encounter dozens
of characters ready to greet them.